7 Tips to Improve Local SEO with your Blog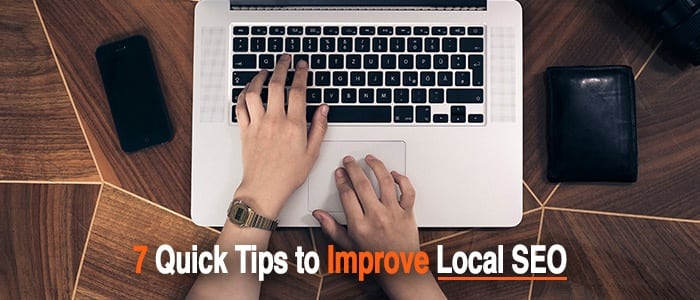 Your blog posts can give you a huge – and I do mean HUGE – surge in getting found in local Orlando searches – or for whatever search location you are trying to optimize for.
But do you know how to write with local Orlando SEO-specific terms?
If your business lacks a blog, you are likely missing out on one of the key ways to drive traffic to and increase awareness surrounding your business. The "tricky" part of using a blog to solidify your digital presence is that you need to understand what you're doing and why throughout the process. Making the right calls in this area is not hard, but there are specific steps that you need to take while preparing your post in order to ensure that the investment in blogging gets you the exposure you'd like.
The basics of blogging "local SEO" specific content
1)  To help search engines understand the local emphasis of the blog post you intend to publish, you need to write location-specific content. Begin by including the location you're writing about in the blog post title and URL.
2)  Include the business name and location in the first paragraph of your blog post (note: it's not always easy to find a way to do this that flows naturally, so don't feel like you're alone if you have to work at it a little).
3)  We suggest renaming any images you might post in your blog article to reflect a local SEO-friendly strategy. For example, you might rename an image of your business or product that was originally called something like "DCS43849738.jpg" to "mybusinessorproductandbusinesslocation.jpg".  Include descriptive alt-tags on your images that reflect your location. (Of course, try to keep the image name to a reasonable length.)
4)  Write at least 300 words in your blog posts on topics relevant to your location. For example, if you are a bakery in Orlando and you want to provide your audience with helpful information, you may decide to write blog posts on things like:
Some of your favorite businesses that are related to your business, such as party planners and event venues. If you do a great job and those you write about see your post (you can always email them a link to bring it to their attention), these folks may link back to your post, which is very helpful with SEO.
Some of your best-selling products and services so that others can learn about what people most appreciate about your offerings.
5)  You can and probably should research trending keywords in your area using a tool like Google Trends. Experiment with the interface by typing in different keywords that are related to your business to see how they are trending in your area. Determine which of those words are being most heavily used in local searches and then select an appropriate topic to write about. Do your best to incorporate the keyword you've chosen in steps 1-4 above.
6)  Blog steadily. Whether it is twice a week or twice a month, keep up with your effort. Your pay-off will come in time (so be patient), as Google relies on a "preponderance of the evidence" – meaning that the more you blog using the right tactics (some of which are listed above), the more likely Google is to recognize and reward your site in its rankings.
7)  This one bears repeating: Do not underestimate the power of regular blogging when it comes to getting found on the internet. If this is something you lack the time or skill to carry out with any finesse, you might consider hiring out this task to a digital marketing agency.