How to Incorporate Content in Landscape Marketing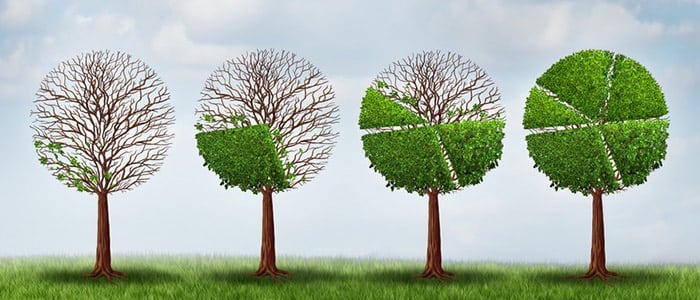 As a landscaper, you know that word-of-mouth recommendations play a big role in generating new clients, but you should be aware that your Internet presence plays an equally heavy role.
If you care about generating good prospects online, your online landscape marketing needs to be able to pull its weight. Fortunately, there's a strategy to that.
In this post, we'll talk about the benefits of content marketing for landscapers.  And in subsequent posts, we'll talk about additional landscape marketing tips to help you get on track.
To begin, we'll answer the question: "What is content marketing, and what does that look like for professional landscapers?"
Content Marketing for Landscapers
As you know, today's consumer relies on the Internet to research products and services in order to make buying decisions. These potential clients are online right now looking to find valuable, commercial-free information to help them figure out what to purchase and who to purchase it from.
Content marketing's goal is to reach these prospective clients at the right time with the right message using the organic search terms these consumers use to look for the products and services they need.
If your strategy is right, the information your organization puts out can be the information that will draw potential customers to your business.
The treasure to be had is this: Your online marketing efforts surrounding content marketing can take you from zero to 60 in online lead generation with sustained, strategized efforts.
First Step in Content Marketing: Profiling Your Clients
Before you begin, you need a good strategy that is grounded in research. You need to profile
–  Your current clients
–  Your "ideal" clients
You can profile them using a variety of methods, and the more data you have, the better.
Data can be obtained from Google Analytics, from data you collect in your business and through other specialized and paid research like SEMrush or Hrefs.
Another great place to learn more about your customers is social media
Once you have profiles of your clients, including age, location, income, interests, lifestyle, wants, needs and – importantly – the issues they face directly or indirectly in relation to your services, you take the next step.
Second Step in Content Marketing: Keyword Research
Once you understand who your clients are, the next step is to do some keyword research to find out which organic search terms your potential clients are using to find the products and services that you offer. We recommend tools like Google Keyword Planner from Google Adwords and SEMRush.
For example, if you offer "outdoor stone fireplaces," your leads may be looking for "outdoor stone fireplaces in Orlando." You'll need to incorporate the terms that you want to rank for, such as the aforementioned, in a specific way in order to be found organically in a search, although there is a little more to it than that.
With research, you can determine which keywords and keyword phrases your website can most easily rank for and begin with those.
Third Step in Content Marketing: Create and Publish Keyworded Content
Whether you use blogs or landing pages for downloadable content, your task is to create the keyworded content that your profiled clients are looking for. This content should be properly SEO-optimized for the keywords and keyword phrases that you've selected for your client profiles. As you continue to provide the information you think you can rank for online, your Google search ranking should rise in proportion to your ability to follow and implement your strategy.
As you obtain more visitors, your strategy needs to contain conversion points, which are methods used to invite consumers to interact with you and to share information. As you establish relationships with consumers through these conversion points, your prospects trust in you will show itself, and you can begin to nurture your leads until they become customers.
In a Nutshell
Content marketing for landscapers relies on a well-conceived strategy that is proven to attract a significant increase in visitors. The better and more thought out your content and conversion points, the better the result.